Mediasite Version 7.2.2
Mediasite support for cielo24 is via setup of a new Audio Transcription Template and Audio Transcription Profile in your system. Please find instructions to set this up below:
Mediasite Configuration
Login to Mediasite manager: http://<yourdomain>.mediasite.com/mediasite/manage
Go to Settings > Audio Transcription Templates

Note: 

There should be a Audio Transcription Template already setup for you labeled Cielo24. If this Template is already setup you can move onto the Audio Transcription Profile step.

If there is no cielo24 Audio Transcription Template please follow directions below:

Name: cielo24
Server URL: ftp://ftp.cielo24.com
Tracking URL Format: http://www.cielo24.com/portfolio (must use this exact URL)
Authentication Method: Password
Select Desired Caption/Media Formats

Click Add New (Fill out form):
Click Save
Go to Settings > Audio Transcription Profiles

Enter name for the profile: We recommend "cielo24-<language>-<fidelity>" (ex: cielo24-EN-Pro48)
Enter Description (optional)
Template: Select Cielo24 Template that was automatically created and provided.
Service Level: Select your desired service level and workflow for this specific Profile.
Put in your cielo24 Username and Password

Click Add


In the created Profile, click the Security tab to select groups/departments that have access to ordering captions for billing purposes.
You can find a video tutorial on setting this up HERE.
Ordering Captions with Mediasite:
Mediasite users can order captions at a template or at an individual presentation basis. Template configuration allows all presentations assigned to a specific template to automatically be captioned and returned. Users can also choose to submit caption requests at a per presentation basis if they do not want their caption requests to be automatically submitted. You can find a video tutorial on ordering captions using Mediasite HERE.
Template Configuration
Login to Mediasite manager

Go to Content and click Add New > Template
Fill in desired Title, Description, choose a Presenter, and select a Stream Group for your new Template.
Click Delivery tab and select Audio Transcriptions 

Select your created profile with desired fidelity and turnaround time
Click Save

You can now associate any new uploaded Presentation with this template by clicking Add New > Presentation > Change Template > Save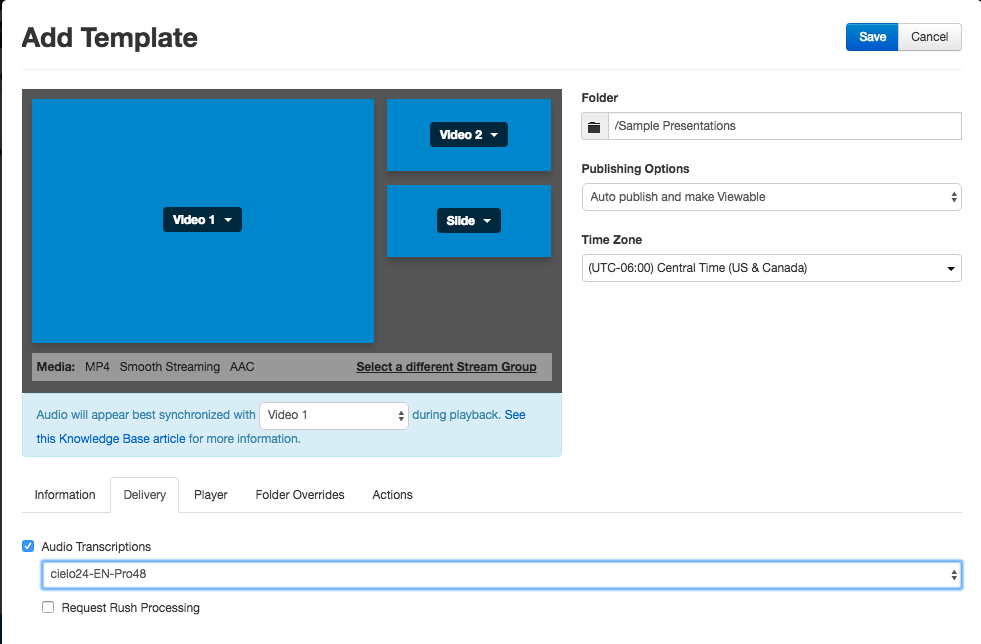 Presentation Configuration
Go to Content and click on a Presentation 
Click on Edit tab
Click on Delivery tab below

Select Choose a Provider (select Profile created during configuration step).

Check Audio Transcriptions
Click Save

If you would like to caption multiple Presentations select your desired Presentations and click Manage Content > Add Delivery
Check Audio Transcriptions

Select Choose a Provider (select Profile created during configuration)

Click Save

Checking Status of Caption Requests
Click on a Presentation that was submitted for a caption request.
Under Summary tab, click Delivery tab

Under Audio Transcriptions it should say "The media file has been submitted to the provider for captioning."

To see your completed captions select a processed Presentation and click Watch in New Window in the Summary tab.

Click the CC button to see your captions on the Presentation.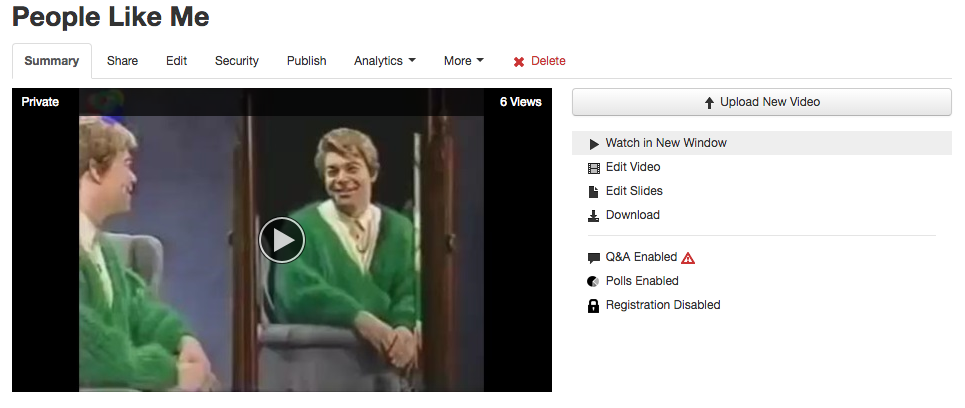 Additional Option for Downloading Captions and Transcripts:
Log into cielo24 Portfolio with your username credentials
Select the desired video and click "Download Transcripts" or "Download Captions"