The Amara integration with cielo24 requires you to have a cielo24 account, and a "Prep" and "Delivered" team in your Amara instance. Please find the link HERE if you do not have any of these requirements.
Amara Integration Instructions
Once you have your cielo24 account and your "Prep" and "Delivered" teams setup on Amara you are ready to request captions. When captioning is required, simply upload your media to the "Prep" team in Amara.
Navigate to your Prep team in Amara
Click on the Videos tab
Select Add Video
Input the URL of the video you would like captioned and click Save
Once uploaded, the media will be automatically ingested and captioned.
Note: Captions will be returned in 48 hrs by default. If earlier TAT is required (3 hr, 24 hr, or 7day) please email support@cielo24.com BEFORE video is uploaded to Amara "Prep" team with account and video name.
Once captions are complete, your video should automatically be moved to your "Delivered" team.
Navigate to your Delivered team in Amara
Click on the Videos tab
Select your video and you should see the caption file under Language.
If the caption file is clicked then you will be sent to a page where you will be able to see your caption file with timestamps. You will also have the ability to download and edit your caption file or delete the file if needed.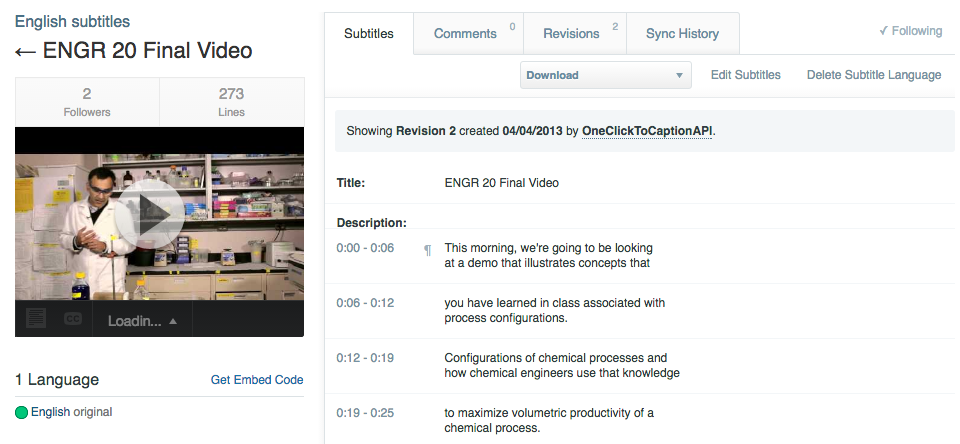 Additional Option for downloading captions and transcripts:
Log into cielo24 portfolio with username credentials
Select the desired video and click "Download Transcripts" or "Download Captions"